Stetsom ST6000
Two channel line out converter with remote wire
R781BT
CD Receiver
with Bluetooth® Wireless Technology
and Front USB/AUX Input
KD-R781BT

Display

Display Type

2-Line VA LCD Display

LCD Color

White

Key Color

Variable Color + Red

Spanish Text Display Compatible

Yes

Auto Dimmer

Yes

Brightness Control

Yes

Media Playback

MP3 Compatible with Tag

CD / USB

WMA Compatible with Tag

CD / USB

WAV Compatible with Tag

USB

FLAC Compatible with Tag

USB ( Up to 24bit/48kHz )

Bluetooth Control

Built-in Bluetooth[1]

Yes (Version 3.0, Wired-Mic included)

Hands Free Call (HFP)

Yes (HFP 1.6 wideband speech)

2 Phones Full-Time Connection

Yes

Audio Streaming & Control (A2DP, AVRCP)

Yes

5 BT-Audio Full-Time Connection

Yes

Voice Dialing (voice recognition compatible mobile phone required)

Yes

Phone Book Access Profile (PBAP)

Yes

iPhone & Android Automatic Pairing

Yes (Android only)

Android Control

Android Music Playback (AUDIO MODE and AUTO MODE)

Yes (AUDIO MODE & AUTO MODE)[2]

Pandora Control (Available in countries that support this service.)

Yes (via Bluetooth(R))

USB

Position

Front

USB Power Supply

Yes (1.5A)

Drive Change Mode for Mass Storage Class

Yes

Inputs and Outputs

AUX Input

1 (Front)

Line Output Terminals (Pair)

2 Pairs (Front + Rear/Subwoofer Selectable)

Pre-Output Level

4.0V

Subwoofer Output with Level/Frequency Control

Yes (Level -50 - +10)

Subwoofer Output Level

4.0V

Tuner

Radio Data System (RDS)

Yes

Digital Processing Tuner

Yes

Preset Stations

18FM + 6AM

Strong Station Memory (for FM)

Yes

Radio Timer

Yes (Once/Daily/Weekly)

Tuner Preset Memory (for power disconnection)

Yes

FM

Frequency Range

87.5 - 108.0MHz

AM

Frequency Range

(MW) 531 - 1,602kHz (9kHz), (SW1) 2,940 kHz to 7,735 kHz (5 kHz step), (SW2) 9,500 kHz to 10,135 kHz (5 kHz step) / 11,580 kHz to 18,135 kHz (5 kHz step)

Audio

Maximum Power Output

50W x 4 / 50W x 2 +Subwoofer (4 ohms) 50W x 1

Full Bandwidth Power (at less than 1%THD)

22W x 4

MOS-FET Amplifier

Yes

Subwoofer Direct Connection (Mono Lch)

Yes

EQ

Yes (13-Band Graphic EQ)

Preset EQ

Yes (9-Preset)

Bass Boost

Yes

Loudness Control

Yes (Off/Low/High)

High-Pass Filter/Low-Pass Filter

Yes/Yes

K2 Technology

Yes

Time Alignment

Yes

Space Enhancement

Yes

Sound Response

Yes

Sound Lift

Yes

Volume Link EQ

Yes

drvnEQ

Yes

General

Back Up Memory

Yes

Detachable Face Panel

Yes

Carrying Case

Yes

Wireless Remote Control

Yes

Steering Remote Control Ready

Yes

Remote Control Application

Yes (via Bluetooth(R))

Dimensions (W x H x D)

Installation Size

182 x 53 x 159mm

Weight

1.2kg

Unit weight in individual package

1.6kg
[1]Available functions depend on mobile phone.
[2]Android (Ver 4.1 and above) AUTO MODE requires JVC Music Play Application.
Smartphone Integration
Android™ Music Playback via USB

(AUTO MODE/AUDIO MODE)
Simply connect your Android smartphone or tablet to the receiver via USB and enjoy a totally "plug and play" music playback solution. The Android Open Accessory Protocol (AOA2) is supported so absolutely no preparation or set-up is necessary – just plug it in and it's ready to play audio files stored on your Android device in what's called "AUDIO MODE". Or, by installing the free JVC Music Play app* available on Google Play, you'll be able to access "AUTO MODE" for added functionality including Folder Up & Down, and Search Artist/Album/Song.


*JVC Music Play app
For more information, visit
www.jvc.net/car/app/jmp/
Bluetooth® Wireless Technology
2 Phones Full-Time Connection
You can connect two phones full time via Bluetooth, with secure and simple pairing. Calls to either phone can be received by a push of a key on the head unit.


Bluetooth AVRCP1.5 for Versatile Song Selection
In addition to repeat and random playback of music files, you can also easily search for songs using the browsing function. Just look for and choose the song you want to hear from the folder name and song name lists.
Bluetooth Hands-Free Profile 1.6
HPF 1.6 Wideband Speech is supported, so you can now enjoy hands-free phoning convenience together with higher voice quality and improved noise reduction.
Android™ Bluetooth Automatic Pairing
Just connect your Android device* via USB and the automatic Bluetooth pairing function will work to complete the pairing. No complicated manual procedure to worry about.

*JVC Music Play application is required.
JVC Streaming DJ
Connect up to 5 Bluetooth devices simultaneously, so you and your friends can take turns streaming music like a DJ. Move to the groove and get the party pumping to the max.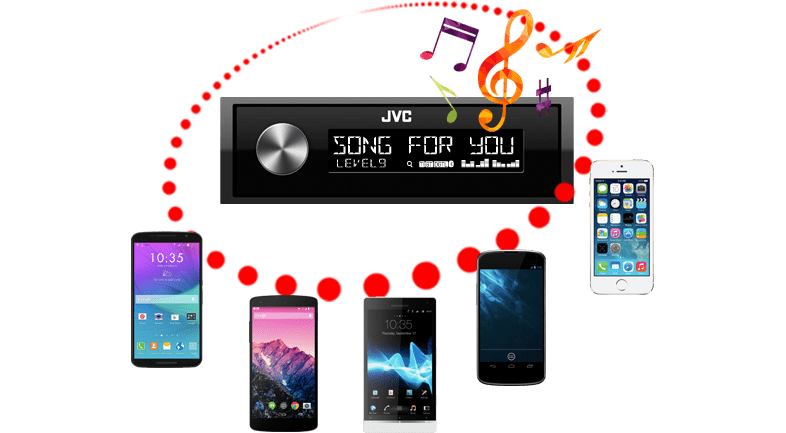 Sound Optimization

K2 Technology for Enhanced Digital Sound Quality
K2 is a JVCKENWOOD's original technology that reproduces the original master sound by expanding the bit rate and frequency range. K2 is compatible with all sources including CD. For example, K2 will expand the digital data of the audio CD recorded at 44.1kHz/16 bit to 48 kHz/24 bit, and recreate the high-frequency range above 20kHz that is cut during the CD formatting.

Time Alignment
By selecting the speaker type and the distance to the centre of the listening position, the head unit will automatically adjust the timing of the sound output from each of the speakers so that the sound from each of the speakers will arrive exactly at the same time to the listening position.

Space Enhancement
Space Enhancement is a virtual surround technology using 2 speakers. Just select the vehicle size, and the head unit automatically adjusts the sound effectively.

Sound Response
This function boosts the low frequencies which can be lost during compression to MP3 or AAC.

Sound Lift
Virtually manipulate the height of the speakers by adjusting the sound frequencies.

Volume Link EQ
Volume Link EQ boosts specific frequencies in the audio signal to compensate for the impact of road noise. It boosts frequencies in the music that are affected by road noise.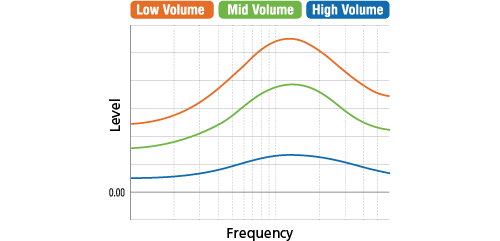 13-Band Equalizer
Use the 13-Band Equalizer to manually adjust the sound to your taste.
9-Preset EQ including "drvn EQ"
Preset EQ patterns are selectable from 9 types including "drvn EQ" that is designed to maximize the performance of JVC drvn Series amplifiers and speakers, as well as producing dynamic sound for any speaker.

Media Playback
24bit FLAC Compatible with Tag
Compatible with FLAC format which allows digital audio to be losslessly compressed, so that file size is reduced without any information being sacrificed. Also compatible with playback of 24bit / 48kHz FLAC format.
Display
2-Line VA LCD Display
Equipped with VA (Vertical Alignment) LCD panels that offer a broader angle of view and better visibility. The 2-line display provides more information with animation effects.

Variable-Color Accent Key (Dual LED)
You can customize your own color by adjusting the intensity of RGB (Red, Green, and Blue).

USB
High Current 1.5A Charging
Rapidly charge your smartphone using the USB port, with up to a maximum of 1.5A.
General
Remote Control App
Control the receiver's source directly from the smartphone using simple finger gestures with "JVC Remote" app* now available for both iOS and Android. You can even customize your audio setting, and see detailed source information such as song title, artist name and album art etc. from the smartphone.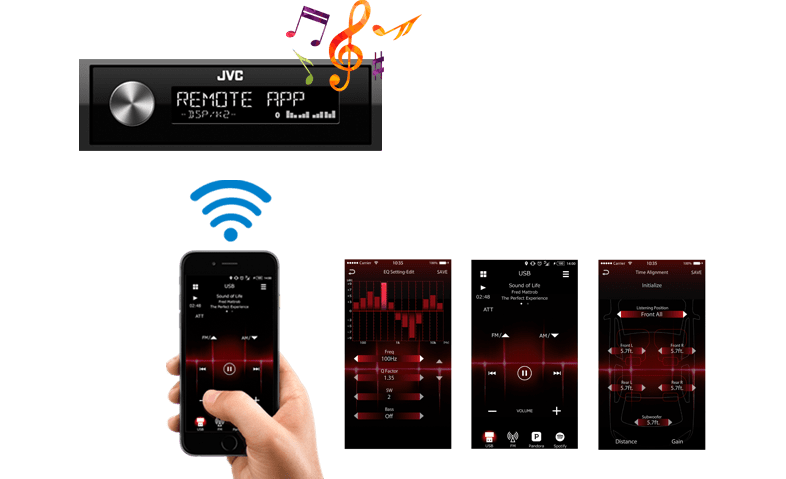 *JVC Remote App
For more information, visit www.jvc.net/car/app/jvc_remote/
Rislone 44100 - Engine Treatment
Reduces Friction & Wear
Quiets Noisy Lifters & Valves
Removes & Prevents Sludge
Keeps Engine Clean
The product that made Rislone famous. It used to be called "a tune-up in a bottle," and was the very reason the phrase "tune-up" was invented. No joke — this is where all that started.
Fast forward to today: eating clean and healthy foods ensures that our bodies perform at their best. The cleaner we keep our system, the better it runs. This is true for our cars as well. A cleaner engine is a better-lubricated engine with less friction and wear. Our famous, award-winning Rislone Engine Treatment does just that. This product contains high quality penetrating lubrication oil, combined with protective engine additives and special cleaning agents. It's like a healthy diet for your car.
Its multi-grade formula allows oil to flow freely and provides protection over a broader temperature range. The unique Rislone formula is designed to penetrate into valve seats, bearing surfaces, piston rings and ring grooves, where sludge and varnish is likely to form. These deposits are gradually removed with the next oil change. There's a reason it's the #1 product chosen by race and off-road clubs.
Regular use of Rislone Engine Treatment, with oil and filter changes, will keep your engine components running smoothly. Simply watch Bobby and Caitlin in our how-to video to see how easy it is to install this product. Peak performance and car health has never been easier.
Dosage:
In passenger car and light truck engines, use one bottle for a 4 to 6 litre system.
Sandisk USB 3.0 Ultra Fit Flash Drive 16GB
BMC

SINGLE AIR FILTER 60/70/76/80/100MM

BMC conical filters for direct air intake can be installed on most types of engine by removing the original airbox. BMC direct induction conical filters are manufactured using a characteristic red rubber that allows the connection of the intake to be particularly resistant to both engine stress and heat without suffering from deformations caused by the high temperature. The special filtration mesh allows the production of filters with a power up to 700 HP without presenting problems of filter deformation.
BMC conical filters are available in two versions:
SA (Single Air) with simple lateral air flow - available in carbon top, metal top and plastic top versions;
TW (Twin Air) with central and lateral air flow - available in metal top and plastic top versions.
Starsound
4 Channel
SSA-CA4-1900 
55W RMS x 4 @4ohm
75W RMS x 4 @2ohm
130W RMS x 2 @4ohm
Vibration Absorber
About:
Our traditional very popular STP iSilver upgraded with anti-rust additives to ensure that chassis does not rust. This is a very flexible waterproof material which adheres to complex surfaces tightly, providing highest vibration damping for material of this kind.
Composition:
A multi-layered vibration damping material with aluminum foil outer surface, polymer layer on butyl rubber base and a self-adhesive glue layer. 1500 hours of testing under the salt fog show no detectable corrosion centers.
Suitable for:
Doors, Roof, Boot lid, Bonnet lid, Firewall.
Packaging:
STP iSilver Antirust Bulk Pack – 1 sheet * 0.75m * 0.50m 
PIONEER

MVH-85UB

Digital Media Receiver with USB direct control for Certain Android Phones

WMA/MP3/WAV Playback :
Yes
Media App Control
Android
24 Stations/ 6 Presets
24 Stations
BSM (Best Station Memory)
: Yes
Built -in Amplifier
MOSFET 50 W x 4
Advanced Sound Retreiver
: Yes
Crossover Network
HPF/LPF
Built -in Amplifier
50 W x 4
USB Direct Control For Certain Android Phones :
Yes
Aux Input (3.5 mm mini-jack)
: Front
Detachable Face Security :
Yes
Display with LED Backlight
VA LCD (1 Line, 8 char)
Rotary Volume Control
: Yes
Universal steering wheel control
: Yes
Face Case (Included) :
Yes